It is an immense pride, for any company, to get recognized and applauded for the ideas that innovates in any field. GajShield and its team's gladness is indescribable as we hold are heads high for being among the 20 Most Promising Security Companies by CIOReview. Overwhelmed with gratitude, we owe our success to all our clients who have kept their faith in us to provide security solution to their enterprise. This acknowledgment will motivate us further and will help us to create ingenious solutions, and will also boost our zeal for excellence.
This is a new feather added in our cap since we have already achieved various business milestones seamlessly. Innovation is one of our greatest assets and with technologies like Context based Data Leak Prevention, Cloud Security, Zero-day Anti-Ransomware, Oops based Management we have always been ahead of the security solution curve which helps to create real security solutions of today's and tomorrow's enterprise. We already have our fortified presence in 40+ countries and are expanding our global footprints too. With 14+ years of Establishment, we are fueled with great knowledge, strong network, and high confidence. We have always worked seamlessly to achieve excellence. This recognition will help to take our business to the next level.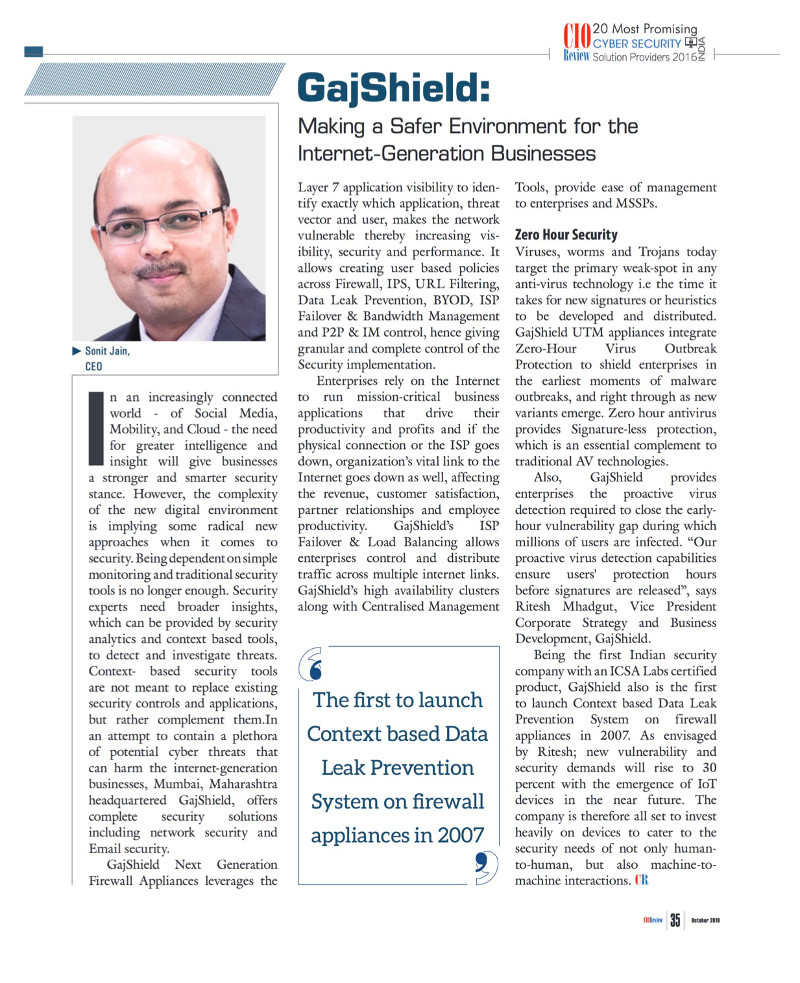 About GajShield
GajShield Infotech (I) Pvt. Ltd. since its inception in 2002 focuses on providing Network Security Solutions to Corporate. Our Mission is to "make the Internet a safe place to work".
GajShield is a leading Security Company having the distinction of being one of the few companies worldwide and the 1st Indian Firewall Product Company to have earned ICSA Labs Firewall Certification Criteria 4.1. The ICSA Labs' Certification Program provides assurance to the user community that certified Products meet industry-accepted security standards worldwide. 
GajShield portfolio of products include Next Generation Firewall, Context based Data Lead Prevention, Cloud Security and Split Profiling for Roaming users, SSL and IPSec VPN, Ransomware and Malware Protection, Application Filtering, Content Filtering, Anti-Spam solutions.
GajShield develops markets and supports an integrated set of enterprise security management software products for heterogeneous computing environments. Large customers around the world select the Company's solution because of its reliability, performance and unique ability to seamlessly integrate with existing and future computing environments. To know more please visit www.gajshield.com.
CIOReview - http://www.cioreviewindia.com/magazines/cyber-security-special-october-2016/