GajShield Infotech Pvt. Ltd. a leading provider of network, cloud and data security solutions, has been recognised by Gartner in its 2018 Asia/Pacific Context: 'Magic Quadrant for Enterprise Network Firewalls'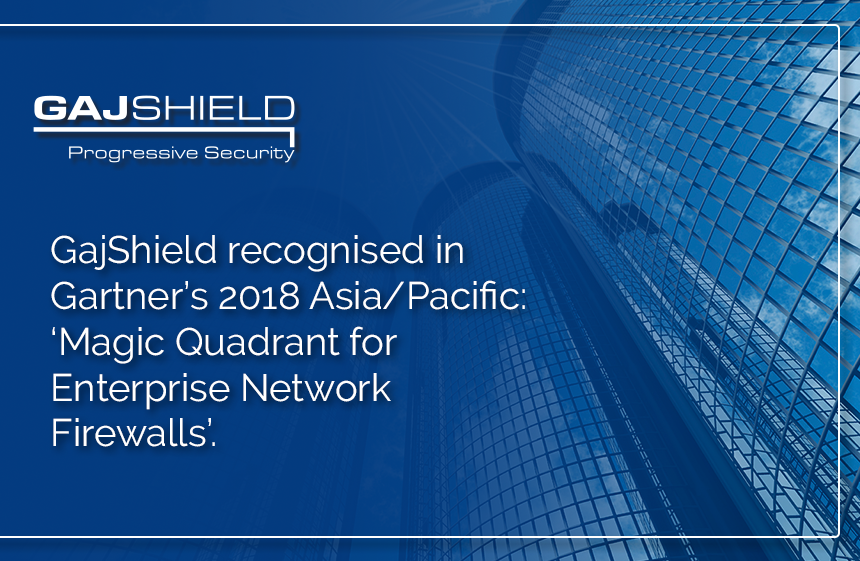 Download a copy of the full report

GajShield has always been at the fore-front in building innovate network and data security solutions which help enterprises to implement Data First security architecture and strategy, Over the years, GajShield's focus has been towards building a strong platform in data visibility and prevention with application context to identify data anomalies and zero day threats. This has lead to enhance the product platform with a superior data leak prevention and cloud security platform. We believe that being part of Gartner's Asia/Pacific Context: 'Magic Quadrant for Enterprise Network Firewalls validates our products, services and support in addressing emerging threats before they impact customer's business
GajShield has always been a leader in innovating security technologies like Context based Data Leak Prevention, Cloud Security, Zero-day Anti-Ransomware, Oops based Management and has been ahead of the security solution curve which helps to create real security solutions of today's and tomorrow's enterprise. Going beyond traditional solutions, GajShield's Data First security strategy approach has helped enterprises to secure cloud and SaaS applications. GajShield provides an integrated, best-of-breed and comprehensive cloud functionality which allows the organizations to create common, granular policies for roaming users without impacting end-point performance. GajShield believes its product innovation is setting the pace for the rest of the industry, and has led to its recognition in Gartner's Asia/Pacific Context: 'Magic Quadrant for Enterprise Network Firewalls'.
Apart from improving security, GajShield's 'Contextual Visibility and Protection' is able to indentify threats with little impact on performance, unlike traditional Next Generation firewalls. With the help of contextual visibility, GajShield's security engine are able to quickly identify suspected traffic and send it for further evaluation without reducing performance of network traffic. Contextual visibility help to identify zero day threats protecting with reduced false positive and higher accuracy. 
GajShield's context sensitive Data Leak Prevention system understand web application by creating context which helps an enterprise to setup policies based on the SaaS or cloud applications instead of IPs or organisation users, which have no relevance to the above application. Each context bring higher visibility which helps to protect data leaks from an enterprise. For example, you can create policies based on the 'From', 'To', 'Subject', 'Email Data', 'Attachments' of SaaS based email applications like Google, Yahoo etc, preventing intentional or un-interntional data leaks.