Since all traffic pass through a security device, it is expected that current firewalls inspect this traffic and provide indepth analysis of its usage. GajShield Next Generation Firewall is built with intelligent reporting system which enables an organisation to quickly identify mis-use and take quick decision on whether bandwidth needs to be upgraded.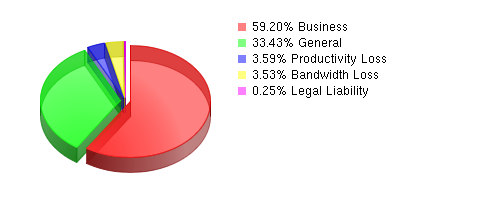 From broad level classification of traffic from Business, to Productivity Loss, it brings in intelligent labeling to traffic. With a first glance, network administrators can make intelligent decision on whether to increase the bandwidth or control it use. With detailed report on which users is using what application, site to misuse traffic, it is easy to manage traffic and improve performance of business application.
GajShield provides solutions for Network Security and Email Security. GajShield develops Next Generation Firewall, Unified Threat Management (UTM) Security Products to meet the needs of Internet-generation businesses. GajShield's products remove the complexity and reduce the cost of implementing and managing today's mandatory business services - including Data Leak Prevention, Remote Filtering (Cloud Security), Firewall, encryption, VPN, URL filtering, virus scanning and more - by delivering unprecedented levels of security, performance, simplicity, functionality, and cost-efficiency in a single product. Founded in 2002, GajShield is headquartered in Mumbai, India and its products are used by large and medium organizations worldwide. (www.gajshield.com).