Unified Threat Management (UTM) is a comprehensive solution that has recently emerged in the network security industry and since 2004, has gained widespread currency as a primary network gateway defense solution for organizations.[1] In theory, it is the evolution of the traditional firewall into an all-inclusive security product that has the ability to perform multiple security functions in one single appliance: network firewalling, network intrusion prevention and gateway antivirus (AV), gateway anti-spam, VPN, content filtering, load balancing and on-appliance reporting. The term UTM was originally coined by IDC, a leading market research firm. The advantages of unified security lies in the fact that rather than administering multiple systems that individually handle anti virus, content filtering, intrusion prevention and spam filtering functions, organizations now have the flexibility to deploy a single UTM appliance that takes over all their functionality into a single rack mountable network appliance.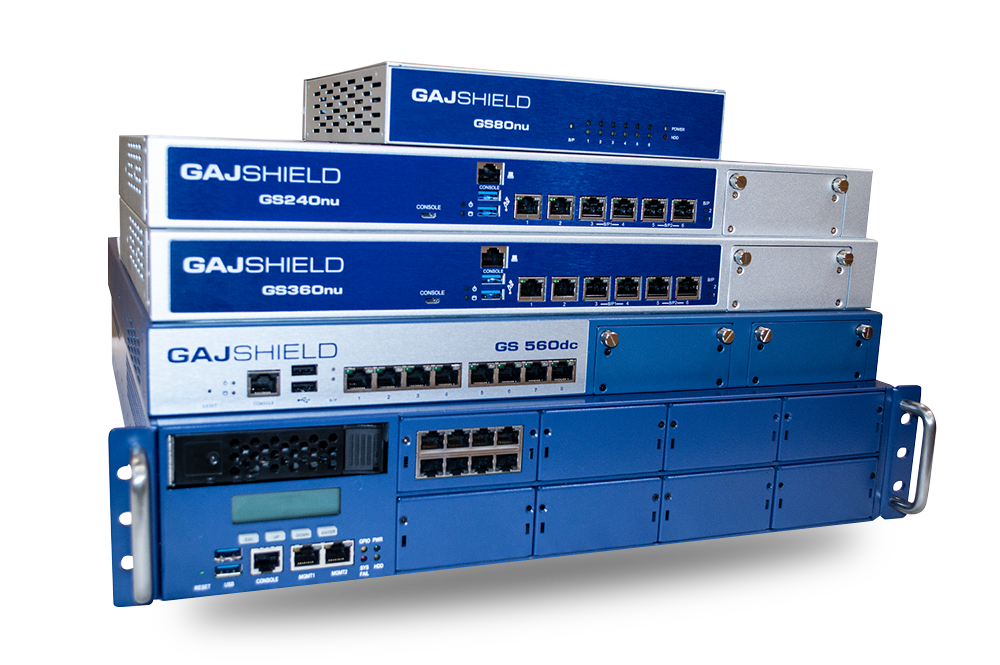 Transition from point to integrated security solutions
Traditional point solutions, which were installed to solve major threat and productivity issues, are difficult to deploy, manage and update, which increases operational complexities and overhead costs. Instead, organizations of today demand an integrated approach to network security and productivity that combines the management of traditionally disparate point technologies.
All these disadvantages can lead to situations where organizations deploy reduced security and inferior policies at remote locations. UTMs can help overcome these problems. In summary, the fast-paced transition from point to integrated security appliances is largely due to the cost-effectiveness and ease of manageability of UTM devices. 
How GajShield UTM appliance secures the network
A GajShield UTM appliance makes it very easy to manage a company's security strategy, with just one device to worry about, one source of support and a single way to maintain every aspect of your security solution. The GajShield UTM can prove to be more effective a solution as its strength lies in the bundle of solutions which are integrated and designed to work together. Also from one single centralized console, all the security solutions can be monitored and configured. Thus it tweaks the solutions to perfection.

GajShield represent all-in-one security appliances that carry firewall, VPN, gateway anti-virus, gateway anti-spam, intrusion prevention, content filtering, bandwidth management and centralized reporting, Data Leak Prevention features. The GajShield UTM is thus, a highly integrated quiver of security solutions, working in tandem that systematically provides network security to organizations. As there is a customized OS holding all these security features at one place, they tend to work in unison, providing a very high throughput. The GajShield UTM can prove highly effective because its strength lies in the bundle of solutions which are integrated and designed to work together without treading on each other's toes.
Unique attractions of GajShield UTM firewall
Enterprises have been fed a constant diet of increasingly inadequate security technologies to solve their security problems. With increasing threats clearly looming over their networks and their business, they don't want another box to solve their problems. Their needs are about leverage, simplicity and integrated management capabilities. Standalone solutions such as AV, AS, Firewall fail to protect against such threats. Enterprises are not only under pressure from cybercrime and insider abuse, but are facing increasing and evolving compliance demands - highlighting the importance of establishing effective and measurable security.
Data Leak Prevention (DLP) technology has captured the attention of many IT organizations, with a promise to help organizations manage their confidential data. Project scope, for these technology providers, however, is a problem. Questions of access control, reporting, data classifications, data at-rest vs. Data in-transit, data ownership, desktop agents, server agents, and encryption have slowed DLP projects to a crawl in many organizations. Venture capitalists funded many data leakage prevention vendors, many of which have been acquired by larger security companies, who have further expanded the scope of an already unwieldy offering.

Reduced complexity, through Single security solution, Single Vendor, avoidance of multiple software installation and maintenance, Plug & Play architecture, Web-based GUI for easy management are some of the major reasons why many organizations, both big and small are fast switching to smart, UTM solutions. This, coupled with Zero-hour protection without comprising on performance translates into high ROI for customers who deploy UTMs.
Key advantages
Reduced complexity: Single security solution. Single Vendor. Single AMC.

Simplicity: Avoidance of multiple software installation and maintenance.

Easy Management: Plug & Play Architecture, Web-based GUI for easy management.

Performance: Zero-hour protection without degrading the network performance.

Troubleshooting: Single point of contact – 24 × 7 vendor support.

Reduced technical training requirements, one product to learn.

Regulatory compliance