GajShield Centralised Management System (GCMS) provides a comprehensive platform for centrally creating and managing security policies, providing real-time visibility & monitoring and alerts, and delivering intuitive compliance and usage reports, all from a single management interface.

GCMS provides administrators of simple or complex network environments with a powerful, intuitive interface to centrally manage multiple GajShield Unified Performance and Threat Management appliances including Firewall, URL Filtering, IPS, Gateway Antivirus, Gateway Antispam, ISP Failover & Load Balancing, Analytics, Reporting and appliance software updates.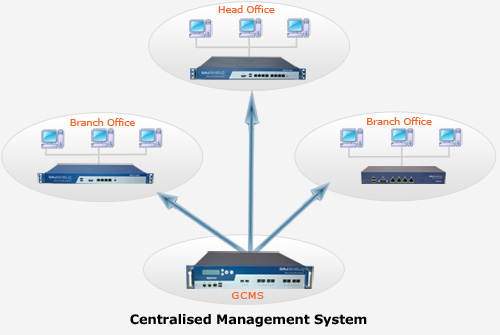 Key Benefits of GajShield Centralized Management System (GCMS)
Real-time visibility of threat summary and trends

Instant enforcement of security policies in response to zero hour threats

Reduced operational complexity and deployment time

Ease of use with view of multiple devices and network status at a glance

 
With the increasing complex networks which are spread over multiple geographical locations, the security infrastructure of large enterprises demands instant and complete visibility into remote network to enable proactive security implementation.

Corporate enterprises would like to implement, monitor and control a enterprise wide security policy with the ability to define localized policy settings per location as required. GCMS provides organizations the ability to implement a broad security policy across multiple locations, simplifies security management and operations.

For the large enterprises having multiple devices at distributed branches, GajShield GCMS enables the administrators to push policy based security profiles to remote locations thus allowing implementation of enterprise wide standard security policy.
Features of GajShield GCMS are :
Real-time visibility of threat summary and trends.

Ability to individually configure advanced options of the UPTM.

Define Firewall, IPS, URL Filtering, Gateway Antivirus, Gateway Antispam, ISP Failover & Loadbalancing policies from the central offices.

Add Groups and configure multiple UPTMs together at the same time.

Get all the UPTMs health status in a single dashboard.

Intuitive and comfortable UI.

Work with Pseudo Interfaces/Hosts/User Groups and be independent from firewall constraints like ip addresses and usernames.

Take UPTM backups and save them in a central location.

Add new UPTM's to a group to make it behave as one among the group.

Have the server auto-synchronize all your UPTMs at regular intervals.