The Power of Advanced Visibility
Backed by Contextual intelligence Engine, Gaj OS : Bulwark, even is more powerful than before. A place where technology connects with human to enhance firewall experience that give complete control over data transactions and data threat surface, making it the ultimate place for cyber defence. Gaj OS : Bulwark is 64 bit hardened OS.
Better Protection
Being the backbone of the Data Security Firewall, the GajOS Bulwark provides an in-depth visibility on various threat vectors and allow taking necessary actions to control and manage the threat surface.
Data Security Health
Control every piece of data leaving out of your network with advanced data visibility an control using Data Leak Prevention Solution and understand the organization's data security health.
Comprehensive real-time report at a glance
Know your firewall better than ever! with real-time resource information and important threat summary available right on the Dashboard, be informed at all the times.
Contextual Intelligence Engine
With the ability to Look beyond just application usage, contextual intelligence engine gains visibility at different levels, deeper than Current firewall for ultimate cyber defence.
Visibility
Complete visibility on Network traffic to implement better security policies.
Deep Inspection
Deep dive into data by inspecting application and data context.
Better Security
Understand usage insight and Identify data anomalies to protects from zero-day threats
Data being the most Important asset to any organization, it is very much a need for the organization to understand the use of it along with various threat vectors disrupting the data security health of an organization. Bulwark take you deep into these context for a well-managed threat surface.
Data Criticality Health Indicator
Assign Violation Criticality to all your Data Security Policies and monitor the overall Data Security Health based on Criticality Indicators.

Data Security Threat Plane
Expand your visibility into Understanding and Identifying Each Data Threat vector by their Source for both internal & external communication and control these threats channels effectively.
Data Security Threat Categories
A Multi-Category Threat Identification for a drilled downed data security threat management and deeper understanding of various violations to control them using data security policies.
Data Security Threat Heatmap
Understand and identify threat patterns as and when it occurs for an immediate action based on threat categories to identify abnormalities in the organization.
Quick Threat Response
Take Necessary Actions right from the dashboard to protect from threats and improve Data Security Health
Security is a critical space and sometimes needs regular personal monitoring. We humans tend to miss out on details if we work with sharper colors and bright background for too long and has various effects on eyesight. GajOS Bulwark uses softer colors and features a Dark Mode for better visuals and help reduce visual stress.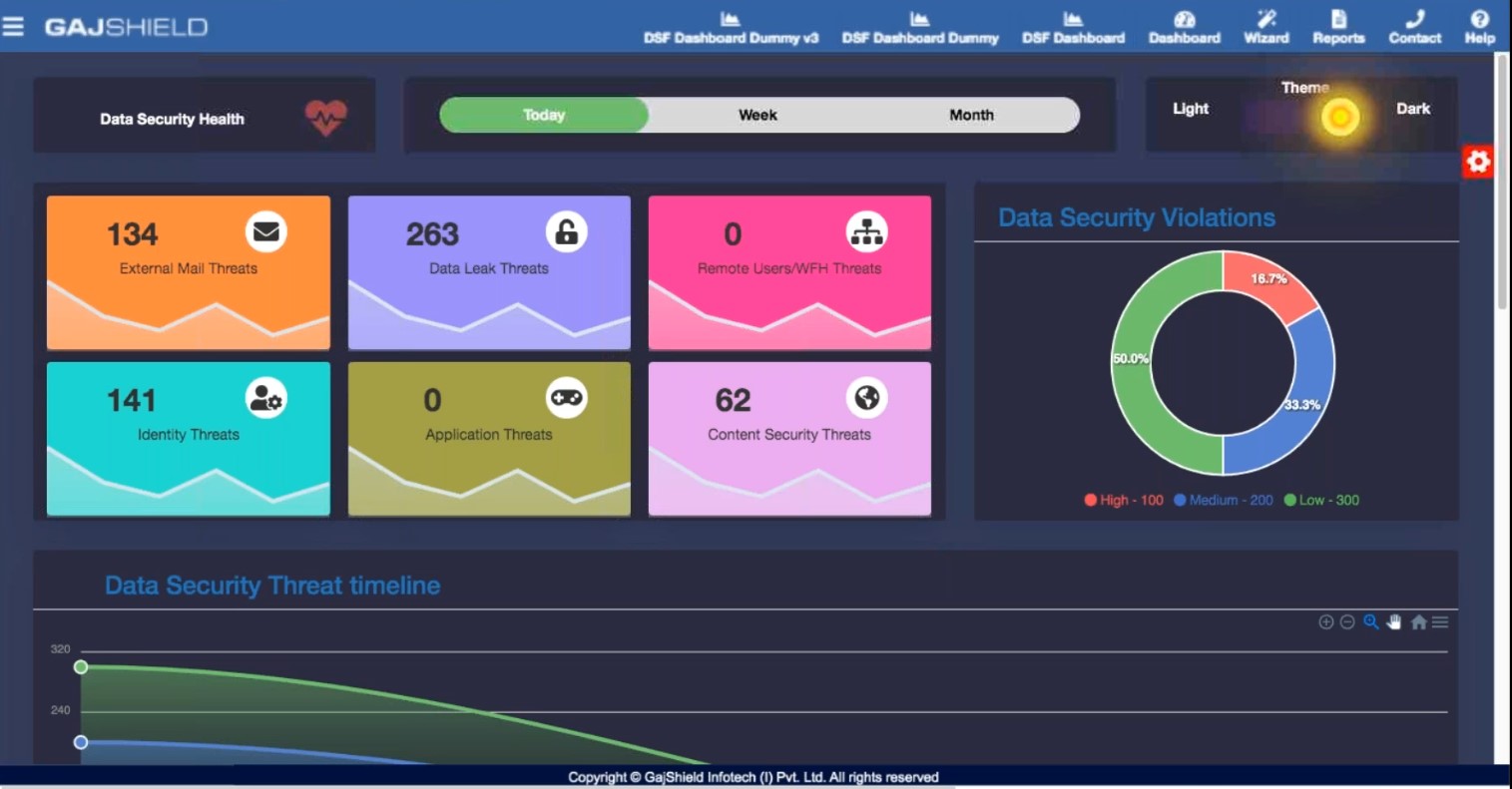 Better Performance
An OS that optimises the firewall hardware resource to be utilised for what it is meant to. 
Simplified Interface
Experience the ease of managing firewall with a more user-friendly interface.
Better Data Visibility
Gain visibility by diving deeper into data context and learn its usage for a well managed enterprise data security.